From elitedangerous2016, EN version added to the French version translated above ↑
I wasn't available that evening. Thank you CMDR Barking Mad!

Sandro Sammarco answered a long list of questions regarding both the upcoming Beyond series of updates and the general future of the game. You can see some selected ones below.
Note: There has been no release date given as of yet for 3.0.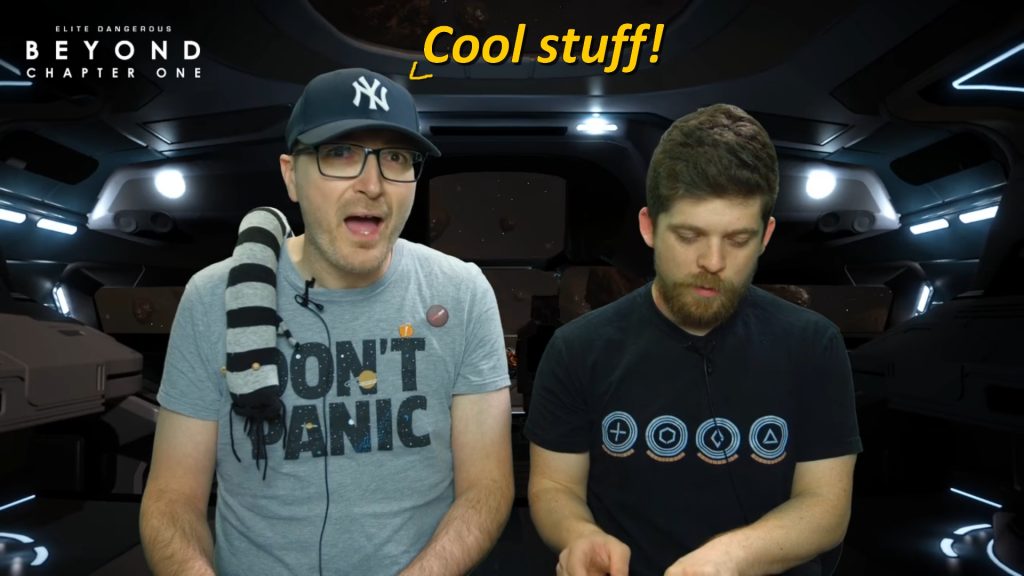 Q. Extra module storage?
A. This has now been doubled to 120.
Q. Will SLF's have outfitting capabilities?
A. Nothing to announce, something they may do at some point but will be done when it fits in the schedule.
Q. Limpet Bay?
A. Frontier are looking at a Limpet controller rack that will store a number of controllers in them.
Q. Tracker limpet?
A. In the big list and very much wanted.
Q. Any chance of being able to change the colours of the HUD display?
A. Not at the moment as it's a significant amount of work.
Q. Engineer tech brokers weapons?
A. Very likely to happen in Beyond at some point.
Q. Will the Discovery Scanner and surface scanner see updates?
A. Yes, later in 3.0 as part of the exploration update Frontier will look at all of these.
Q. Will ATR Ships become persistent? (ie. they will follow players out of a system)
A. Sandro said this would be looked at, but not until they have seen how ATR operates in the initial release.
Q. Are Frontier looking at using mega-ship interactions in other areas such as capital ships, combat zone and planetary outposts etc.?
A. Yes. Looking at a few areas but no further comment at the moment.
Q. Can Combat zones and RES sites be improved?
A. Yes, these sites will be looked at but these are long term plans.
Q. Will bookmarks be colour coded and see other updates?
A. Yes, these and possible other changes could well come when they introduce the codex later in Beyond.
Q. Changes to Powerplay?
A. They would like to integrate missions into powerplay and have some ideas, but no ETA, guarantees.
Q. Any plans to stop players from permanently boosting their ship engines? (specifically as it's causing issues during battle)
A. Yes, this will be looked at as it should not be at a loss of tactics during battle.
Q. Will there be further iterations of wing missions?
A. Yes, there will be more wing missions coming.
Q. Changes to smuggling?
A. Yes, but nothing to comment on at the moment.
Q. Will it be possible to re-name engineered modules?
A. It's on the list.
Q. NPC Crew & Wings?
A. It's something we want to do, but we need a bunch of other stuff such as communicating with NPC's and more rules to govern them, so not at the moment.
Q. Any plans for changes to the Asp Scout?
A. There are some "come cool plans for the Asp Scout, that I'm not allowed to talk about".
Q. Will colour changes to planets reflect the content of the planets?
A. No, but the exploration mechanics in the 3.4 update will assist with figuring this out.