A new look at this week's news for Elite: Dangerous: « The Outpost #58« !
► Send me your best pics of your Cobra next to an outpost! ◄

Frontier News
2.3 : EVERYTHING on Commanders
As mentioned recently, the 2.3 « Commanders » beta will be available for players with access, from the 20th to 26th February. A short, but very first Dev News, has reached us with some information about the roles that the crew can get in the same ship:
Helm Pilot – Piloting, navigation, fixed and gimballed weapons, primary energy distribution
Gunner – Sensors, Turreted weapons, secondary energy distribution
Fighter Con – Fighter pilot
Since then, I have created a summary-article about: EVERYTHING on Commanders !
This article will be regularly updated, don't hesitate to take a look at it from time to time, in order to not to miss anything on the incoming content. What is your favorite role?
PAX East, which will take place in Boston from March the 9th to 12th, will also reveal some information about Commanders as well as the upcoming Elite: Dangerous PlayStation 4 version. Friday, March 10, Edward Lewis will join Sandro Sammarco on stage, they will discuss 2.3. I will of course keep you informed of this.
Developers and community
A dedicated space to Devs' messages from the forums and social Medias.
[2.3]

The delivery missions with redirects are being made optional in 2.3 – Source – Michael Brookes, Executive Producer


[2.3]

Short range passenger missions should benefit your trade rank, and the long voyages to your exploration rank. The benefit for the exploration rank is higher than we'd like so will be adjusted down in 2.3. – Source – Michael Brookes, Executive Producer

[Colonia]

Phase Two of the Colonia Expansion Initiative is over! Five new players factions will soon find their outposts near Colonia. Congratulations to Privateer's Alliance, Ed's 38, Mobius Colonia Republic Navy, Aurora Colony and Edge Fraternity! The resources spent on this second phase will also be deferred to the third phase so that other groups can colonize this new human bubble. – Source – Edward Lewis, Senior Community Content Manager

Ancient Sites Alpha and Bravo: Where's Wally? (Charlie)
The Ancient Sites, these mysterious places full of knowledge bases of the Guardians reveal us more and more secrecy!
After the information of the Alpha site, we discovered then actively investigated the new obelisks containing many data: Beta site. You will find all the new details of Culture, Technology, Language, History and Guardians' Biology on our article The Guardians – Lore.
I also updated the combos to perform on the Antique Sites: Collect the Ancient Sites Data. Treat yourselves with credits!
I also have a project on which I would share the details as soon as possible, being in cooperation with … [DaTa Lø$t]

Powerplay and Lore
Powerplay is an ongoing battle for interstellar conquest and control. Players can choose a Power, help guide their strategy, and take on special objectives to advance their shared cause. Player choices and actions have a direct and visible impact on the balance of galactic power.

◘ 28 janvier – Outspoken conspiracy theorist Ricardo Bentonio has lent his voice to the debate surrounding reports of mysterious spacecraft. And true to form, he has made some rather implausible claims. On his programme 'Behind the Curtain', Bentonio said: « I am in contact with an individual who has irrefutable proof that these ships are Thargoid vessels. And what's more, I have been reliably informed that the Thargoids have been exerting direct influence over human society. Everything that is happening is unfolding according to their plan. Soon, it will be too late! »
Few in the media or the world of politics deigned to respond to Bentonio's claims.
◘ 3 février – The Children of Raxxla, based in the HR 6421 system, have released an analysis of the exploration data recovered by the galactic community in November last year.
A spokesperson for the organisation said: « There was a vast amount of data to sift through, but our analysis led to some notable discoveries in the Formidine Rift, the Conflux and Hawkin's Gap. There are indications that some kind of covert mission took place in these regions back in the 3270s. So far we have found shipwrecks, beacons and abandoned settlements dating from that time, and logs and records relating to this strange mission. » // « It appears that a fleet was despatched, over 30 years ago, to install a series of beacons in the region. None of the ships returned to their point of origin. It seems that this mission was called 'the Dynasty Project'. The purpose of the mission isn't yet clear, but it was evidently a massive undertaking, particular given the technological limitations of the time – it would have taken a year to complete that journey 30 years ago. »
The spokesperson was asked if the data supported the organisation's belief that Kahina Loren was innocent of the attempted assassination of Admiral Denton Patreus. « Unfortunately there is nothing in the data that throws new light on Salomé's demise. But before she was arrested, she indicated that these three sectors were significant. We now believe that that is why she was killed. »
◘ 3 février – The leaders of the galaxy's three superpowers have released further statements concerning reports of mysterious spacecraft.
Emperor Arissa-Lavigny Duval, responding to the recent statement from Federal President Zachary Hudson, said: « Once again, President Hudson has shown himself to be little more than a warmonger. I say again: we must not jump to conclusions. We have not yet acquired any reliable information about these vessels. We must be patient. »
No sooner had the Emperor made her statement than President Hudson responded. Speaking at a rally on Mars, he said: « Some believe that aliens have infiltrated the Empire. An improbable claim? Maybe. But then again, maybe not. After all, we are almost certainly dealing with an extremely advanced species. Who knows what they are capable of? »
Alliance Prime Minister Edmund Mahon did not release a statement, but former Federal president Jasmina Halsey, who has become one of Mahon's most trusted advisors, made an announcement in which she seemed to address the ongoing Federal-Imperial conflict as much as the mysterious ships: « Understanding. Cooperation. These must be our watchwords. We have to go beyond party politics and petty point scoring. Only by working together can we hope to avoid bloodshed. »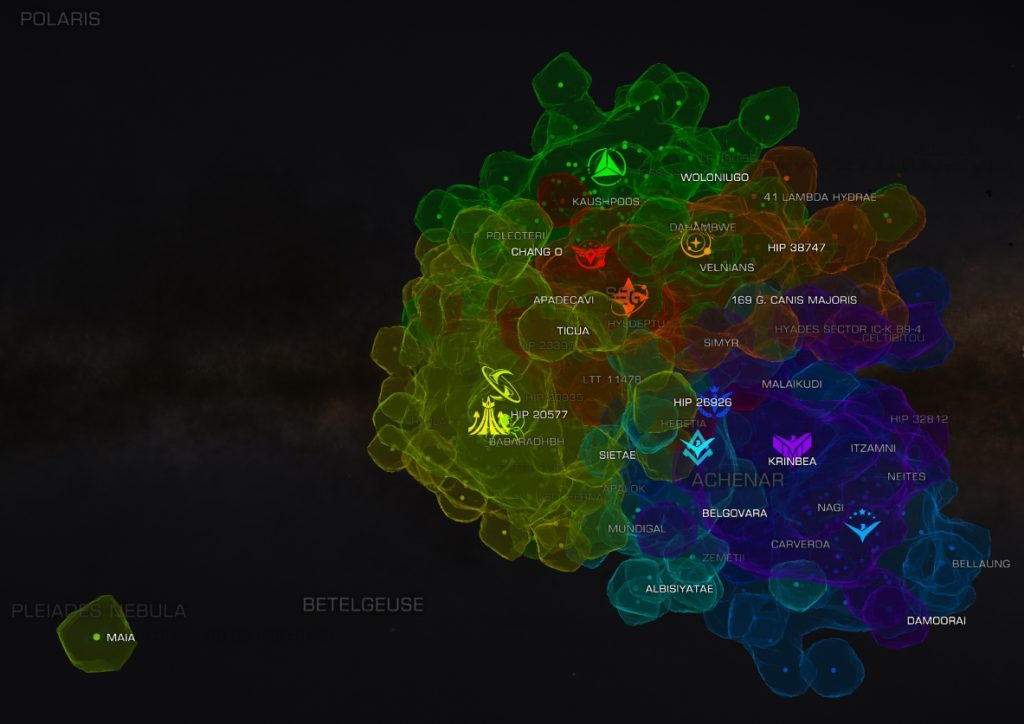 Community Goals
Community Goals allow the community to work together on an ongoing project within a system. Fight, trade, smuggle, explore and help the factions and super powers to achieve their goals. There is no good or bad CG, write your & Elite's stories while earning credits!

Four community goals this week: Transport, Salvage, and Combat.
◘ Colonia Migration Appeal III

Location: Jaques Station | Colonia
Objective: Deliver Galactic Travel Guides

Rewards: Creation of multiple minor factions in the Colonia bubble

Progress: 0/1
Until: February 2nd
Description: Gather your Galactic Travel Guides via the LHS 3447 system, Bluford Orbital. For more details, check the Colonia's immigration website.
◘ Alliance Rescue Operation

Location: Roberts Port | Fedmich
Objective: Collect Occupied Escape Pods and Wreckage Components and deliver them

Rewards: Credits

Progress: 0/10
Until: 9 February
Description: Fedmich Electronics Partners to coordinate a rescue operation, they will gladly reward those who deliver occupied escape pods and wreckage components to Roberts Port in the Fedmich system.
Recuperation notes:

Occupied Escape Pods are Legal salvage → Market.
Wreckage Components are Illegal salvage → Black Market.

Notes: Beware, you fly in Mahon's space. If you actively play in Powerplay, you can be interdicted
◘ Alliance Combat Operation

Location: Roberts Port | Fedmich
Objective: Deliver Bounties

Rewards: Credits

Progress: 3/8
Until: 9 February
Description: Combat pilots are also needed to neutralise agitators operating in Fedmich and thus ensure the safety of those recovering material from the convoy.
Combat Notes:

Fedmich 8: 1 Low + 1 Hazardous
Fedmich 10:  3 Low + 1 Normal
Fedmich 12: 1 Low + 2 Hazardous

Notes: Only Alliance and Fedmich Electronics Partner bounties are acceptable
◘ Hasley to build Refugee Centre

Location: Dirichlet Orbital | Yum Kamcabi
Objective: Deliver Power Generator, Tantalum, and Polymers

Rewards: Crédits

Progress: 5/8
Until: 9 February
Description : Former Federal president Jasmina Halsey has announced plans to establish a rehabilitation centre for victims of war – specifically those affected by the ongoing Federal-Imperial conflict. In a statement, Halsey said: « The centre will of course provide victims with food and shelter, but it will also serve to reunite families and friends, and where necessary will help those affected by war relocate to new systems. » Humanitarian groups were quick to applaud Halsey, who since being discharged from the Clearwater Clinic in July last year has repeatedly expressed her commitment to peace.

Pics of the week
Farva provided us with a wonderful image – long time exposure. Well done!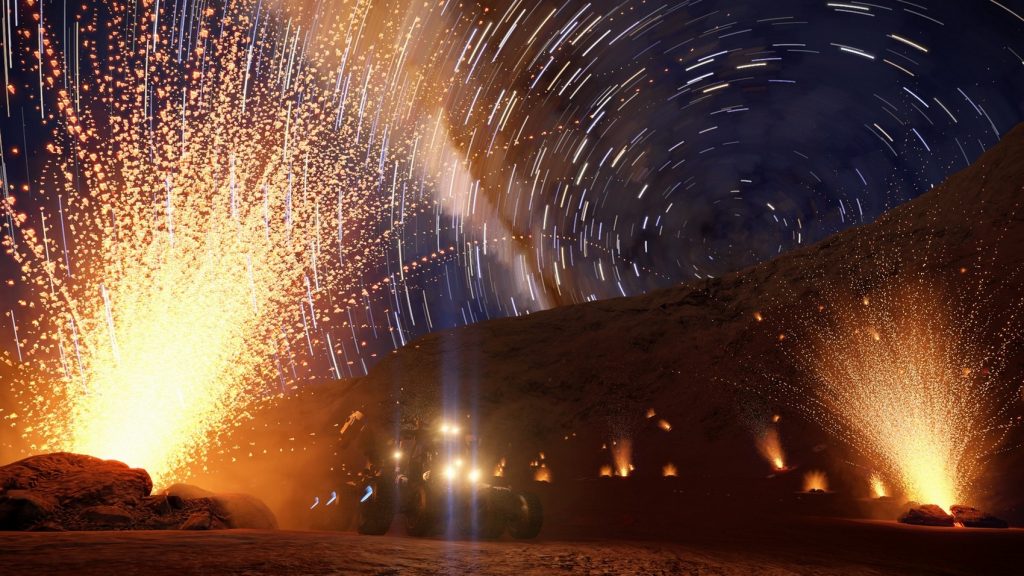 Captain Flirt gave away some pics on Twitter. Astounding images of our lovely game.
A second Space Trees site has been found! (SYNUEFE ZL-J D10-119, 7A, 18.6/-172.8 AND 5.6/10.6!
We gave your information about the first Space Tree site last week, in our The Outpost #57.
The Great Remlok Expedition is still ongoing. Discover new fantastic landscapes from our explorers!
Besides that, we had a great meeting between Katarus and Neotix, near Sagittarius A *. Valentine's Day is coming! 😉
Let's finish this batch of images with a splendid landscape, from Katarus.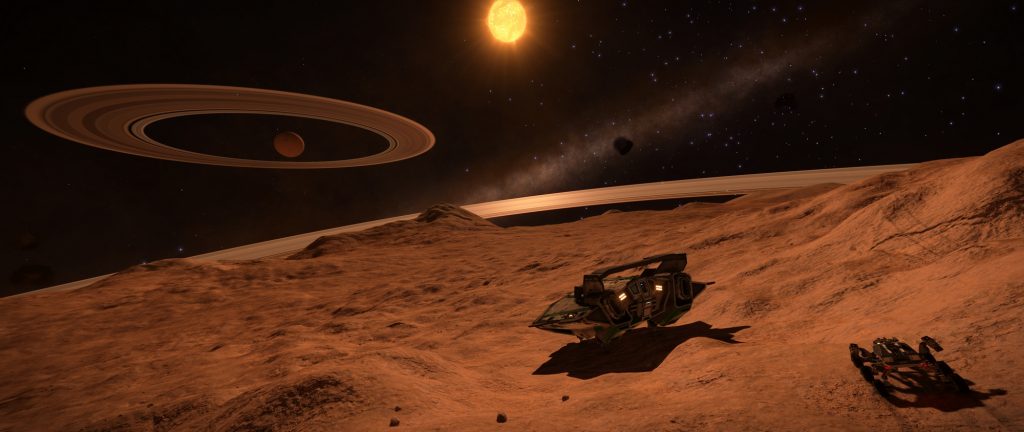 BONUS: Elite Feet concept from ToCoSo, with Elite: Dangerous and Planet: Coaster content.


Videos of the week
Target Destroyed! Boom! Boom! Have a look at the explosive 4k video from Nug: Federal Corvette « Built for the Kill »

The Distant Stars Explorer knew it was a single way trip, they took it at their advantage and made a « Fleet Dismissed » video. Exciting and relieving at the same time!
Let's move on to a bit of PvP with Mass Locked's video. An interesting and balanced fight, as well as an astonishing ending! We will leave aside the lack of sub-modules targeting and the deselection of the vessel during the Chaff.
ShadowWolf realised a perfect gliding phase, in sync with a friend!
Feel free to share and discuss this week's content! Are you pleased with the Outpost?