Check out our new weekly summary in Elite: Dangerous: « The Outpost #66 »!
Have a look at the Frontier Store! 33% discount on Elite: Dangerous and many paintjobs, pilots suits, and nameplates have been added!
Submit your pictures « Outpost: a Cobra, an outpost and a landscape » via the Contact button before April 20!

A

ship kit

will be granted to the

best image

that will be chosen to represent the

Outpost

, in future releases late April. Good luck !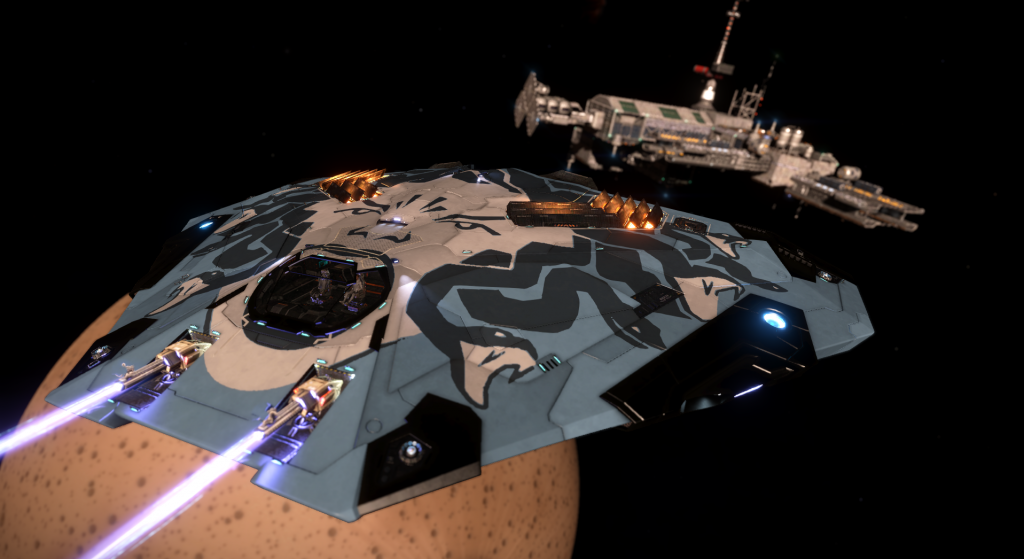 Frontier News
Upcoming content – 2.3 Commanders
While the Update 2.3 Commanders has been deployed on Tuesday, April 11, many players are now wondering: « Ok, what now? ». The main features are in-game but the story has yet to be unveiled, after the addictive 2.2 Guardians.
The developers are tackling the content of the last Update 2.4 for the Season 2, which could bounce back to a new economic model for Elite: Dangerous. Changes in mechanics and very large additions are expected in the « Season 3.0 »: maybe some atmospheric landings? Capital ship Multicrew? New worlds with the aliens? New Meta-Drive technologies to go faster and farther? Improvements in gaming experience, visitable gaseous planets, new astral bodies, group missions, … All at the same time? The game has much more to propose, and we have plenty of time to see these features coming.
For now, humanity is on the brink of collapse: secrets are hidden by the superpowers, Salomé wishes to reveal them but she is countered by the latter in order to keep her silenced, aliens are scanning us without a word, ruins of an ancient civilization are discovered, a mysterious High Tech company is developing new technologies, and the war between the Federation and the Empire rages ever more day after day, transiting from a cold war to maybe soon an open war.
The future of humanity is going to be decided soon, everything should change from April 29, if Salomé manages to share her information to the galactic community. According to the trailers, we might need to investigate on the surface again, this time to find Thargoids who would be very close to us. The outcome of this meeting will also be determined by the community and the aliens will react to our actions. So prepare your ships, have fun while you can, but nothing will stop the story and it will impact us all on a very large scale. Could our end be close?
In fact, the first discovery just happened! We do not yet know if it falls in the same categories as the previous « trees » and Bark Mounds « mushrooms; But these pumpkins are really weird. Congratulations Chryco for this fantastic discovery!

Developers and Community
A dedicated space to Devs' messages from the forums and social Medias.
[Video Contest]

 I know that some players in the Elite community: Dangerous create very high-quality video content, Dale informed us that the official video contest « CTRL + ALT + SPACE » is launching its second edition! You have until May 9th to propose your best videos to Frontier. All details in the following link as well as rewards to the key.

Have fun !

– Source – Dale Emarisi, Social Media Manager

[Gameplay]

We're looking at ways to improve the crime system especially regarding Commander-on-Commander crime. One aspect we're investigating is the Pilot's Federation Bounty, which would be valid in pretty much any system except anarchies. We're also looking at ways to mitigate the « Sidewinder switch », where criminals transfer to a very cheap ship to avoid potentially large re-buy costs when being destroyed because of bounties. Then we have the concept of a « karma » system, to track behaviour over time, which could then be used to mete out punitive (and importantly, in-game) consequences for criminal or unwanted behaviour. – Source – Sandro Sammarco, Lead Designer


[Q/A]

For the Launch of 2.3 Commanders, David held a Q/A on Reddit! Here are the information that I gathered for you – Source – David Braben, CEO Frontier Developments


The game will no longer develop in « seasons », more info at the end of season 2 Horizons
Cooperative shared missions could come in an upcoming update.
What would David reply to the word « Cave »? « Canem » → Watch out for the dogs? Cave Canem. A little troll for « My mouth is sealed » surely.
FDev reflected on features to distinguish veteran players from beginners
A tougher system towards players who destroy others? Yes, in order to attract players in Open World. It is in reflection.
Will we finally see missiles and torpedoes Class 3 Large and Class 4 Huge? TBD: balancing. An NPC would instant-kill you. Are you ok with that?
New roles ahead for Multicrew, engineer? FDev have ideas for additions, let's see already how the 2.3 and the MC works.
Future Changes to Background Simulation: will affect us in an unexpected way. BGS mechanical news after 2.4
Destroyed / abandoned stations to come? Perhaps… 🙂
David likes the idea of ​​storing materials by their types instead of a global storage of 1000. Maybe 50 or 100 of each?
New SRVs are planned but not for 2.4.
A Squadron Search feature? Not for now, but interesting.
Nothing for CQC at the moment → not enough players
New astral bodies to come in the coming seasons: scoopable giant giants, comets, stellar phenomena, atmospheric planets, flying near giant giants and much more.
New mining features will be developed for a future « season », such as surface mining.
Colonia
Colonia is the fourth superpower of the human world, based closer to the center of the galaxy Milky Way. It was built entirely by the players following numerous initiatives of leaders, who formed the bases of this shelter. The development was made thanks to all the adventurers investigating a new world where to evolve.
Although this place is extremely profitable to Miners and Explorers, few activities were available and players often asked for things to do. Mushrooms have been found near Colonia, missions are available and more players groups are officially settling in order to develop the second human bubble.
According to Frontier's statements among the community teams and even David Braben, things should happen in the near future. Adventurers beware, the refuge you develop may not be as safe as you think. Commander UncreativeCat recently discovered a Listening Outpost in the vicinity. It appears that more and more pilots mysteriously disappear and are transported in escape pods at the expense of transporters. Apparently they are humans on which are tested various alien technologies. No more information at the moment.

Powerplay and Lore
Powerplay is an ongoing battle for interstellar conquest and control. Players can choose a Power, help guide their strategy, and take on special objectives to advance their shared cause. Player choices and actions have a direct and visible impact on the balance of galactic power.

◘ 13 April – The Utopia Commune has issued a request for various commodities to be used in a forthcoming research and development programme. The enclave has placed an open order for zirconium, conductive ceramics and strange wake solutions, and has promised to reward pilots who deliver these commodities to Cenker City in the Gucumadhyas system.
Simguru Pranav Antal, leader of the Utopian movement, released a statement outlining the nature of the initiative.
"We are well aware that independent pilots accumulate large quantities of material over the course of their travels. Fortunately, Utopia is willing to pay above-market prices for these materials, which will play a central role in our forthcoming programme."
◘ 13 April – It has now been eight months since the first Colonia outpost was established, and since then the colony has gone from strength to strength. With the Colonia community continuing to expand, the Colonia Co-operative has placed an open order for mined Gallite, Gold and Methanol Monohydrate Crystals for the development of infrastructure throughout Colonia and the surrounding systems.
A spokesperson for the Colonia Co-operative released a statement:
"It would be impossible to overstate how many resources are needed to sustain and grow the Colonia community. Suffice it to say that we are in constant need. Fortunately, thanks to a series of corporate donations, we are in a position to offer generous premiums to pilots who deliver materials to Colonia Dream in the Eol Prou Lw-L C8-76 system."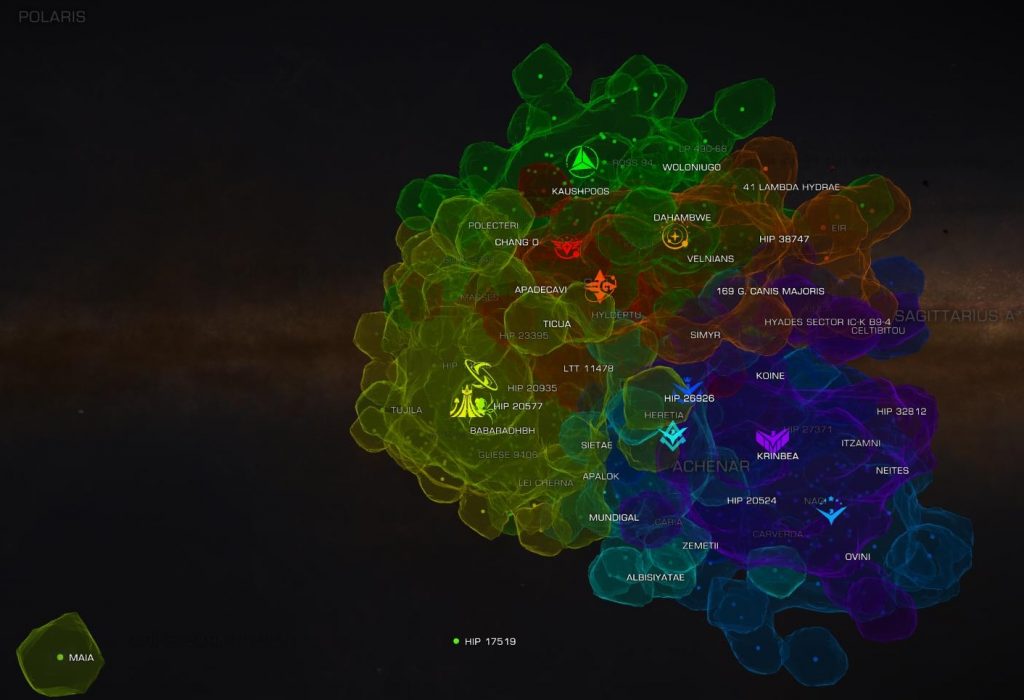 Community Goals
Community Goals allow the community to work together on an ongoing project within a system. Fight, trade, smuggle, explore and help the factions and super powers to achieve their goals. There is no good or bad CG, write your & Elite's stories while earning credits!

Three Community Goals this week: immigration to Colonia (transport), trading, and trading again.
◘ Colonia Migration Appeal V

Location: Jaques Station | Colonia
Objective: Deliver Galactic Travel Guides

Rewards: Creation of multiple minor factions in the Colonia bubble

Progress: 0/1
Until: 4 mai – 4 weeks until completion

Description: Gather your Galactic Travel Guides via the LHS 3447 system, Bluford Orbital. For more details, check the Colonia's immigration website.
◘ Utopia Research Appeal

Location: Cenker City | Gucumadhyas
Objective: Deliver Zirconium, Conductive ceramics and Strange wake solutions

Rewards: Credits

Progress: 0/8
Until: 20 April
Description : See Lore
◘ Colonia Resource Drive

Location: Colonia Dream | Eol Prou Lw-L C8-76 system
Objective: Deliver Gallite, Gold and Methanol Monohydrate Crystals
Rewards: Credits

Progress: 0/8
Until: 20 April
Description : See Lore

Pics of the Week
Look at these marvelous planetary bases from Sessine!
Crusina (1), T3h0 (3) and some fantastic pictures from various CMDRs.
Some astounding pics + Barome's Dolphin!
Scel printed and painted his own Python! <3
Subbota's Viper need the heat from the sun to warm his cold blood, Jonny Longwood proposes an orgasmic picture (yes, totally!) and an unknown CMDR realised a perfect art on the surface.
I have loved the stars too dearly… to be fearful of the night… Join Salomé the 29 April, 18h local time!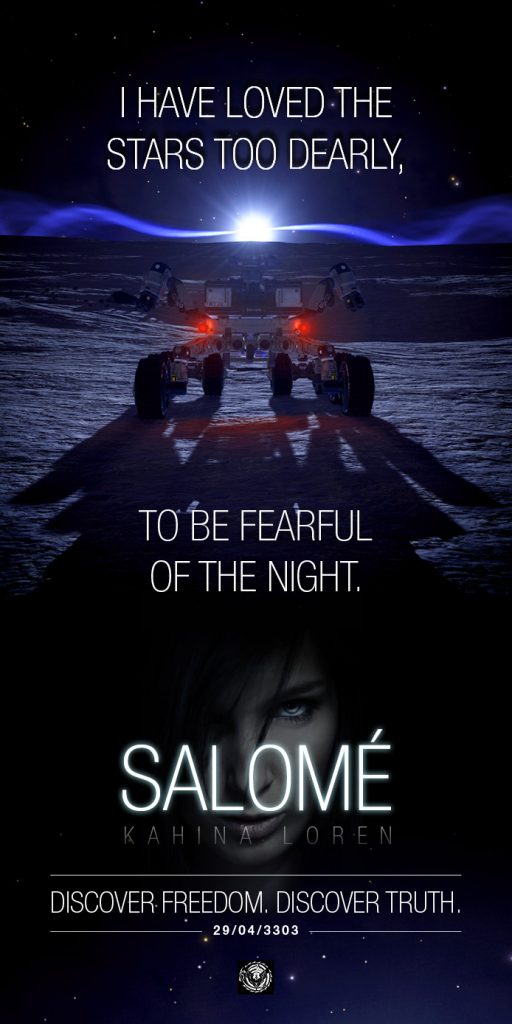 Videos of the Week
This week's prize goes to Corrigendum who proposes « Fate ». A mixture of official trailers and gameplay to prepare the content to come: our actions will determine the future of all. A pure moment!

Chris is showing his new ship off: the Dolphin!
Mitterand Hollow is absolutely amazing in this view from Opikanoba. Thank you!
Do you like the Outpost? We'd like to hear from you in the comments!