Some news this week for our newsletter Elite: Dangerous : « The Outpost #78 » !


Frontier News
This week, Science
A few things this week, the number of Thargoids sites is now 209! The system HIP 22460 is still locked… however we think the latter would contain the ultimate Thargoid base to discover, leading up to new adventures. This site is the one previewed in the Unknown Trailer, from the PAX East 2017.
As always, I participated in the research with Canonn and the new Thargoid site has been discovered following a rectified calculation error. It led to another site but this last one was inactive and no data could be gathered from it. I also visited the only triple Barnacles site known to date, near Alcazar's Hope on Merope 2 A.
During the PAX East 2017, a video emitted a strange and very short noise that you can see in the picture below. The second image has been cleaned by CMDR GooOost while I tried my best with the third and fourth images. It is perharps the face of a Thargoid…. or maybe a Guardian as its eyes looks like their description?
What do you think?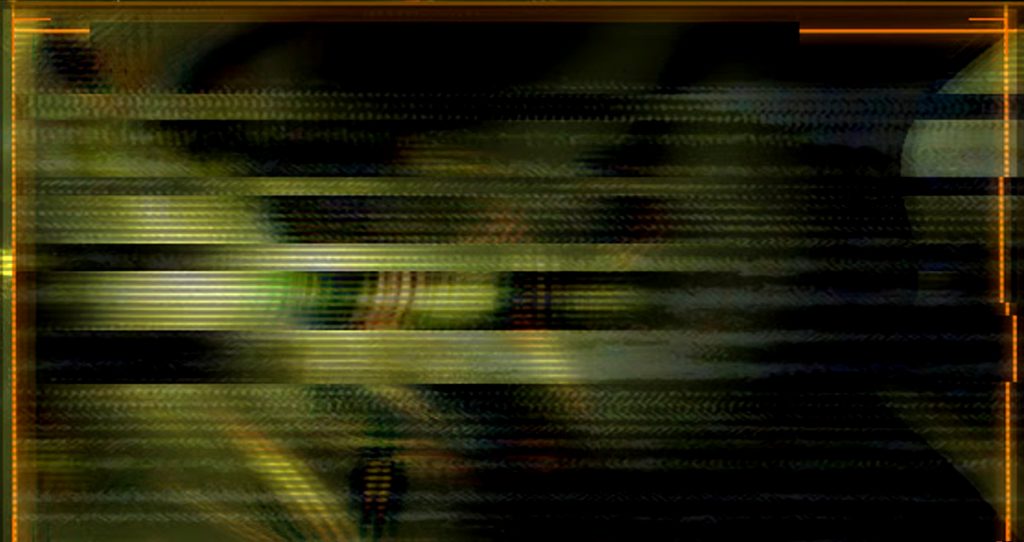 Developers and Community
A dedicated space to Devs' messages from the forums and social Medias.
[Matériaux]

Dom confirms that the following commodies aren't used anymore. Feel free to ditch them from your inventory to free up some space: Basic conductors, Cristal shards, Heat resistant ceramic, Unidentified Scan Archives, Tempered alloys. – Source – Dominic Corner, Programmer (Missions)

[Exploration] I'd like to see the removal of the basic stellar scan that forces you to fly close to get any data. I would like to see processes that were a little more involved (and cool looking/feeling) with regards to Commanders actually having to do something, whilst minimising uncessessary super cruise travel time. But this is just me musing. → What Sandro wants to tell us is that developers will not hesitate to completely reflesh careers after 2.4, in order to improve them. He's trying to understand which systems would be of interest for our explorers. – Source – Sandro Sammarco, Lead Designer
[Connectivité] Frontier acknowledges that players are reporing a lot of connection issues these days. It is important to report these problems: what's your ISP, are you using LAN or WiFi connection mode, ADSL, cable, fiber, your internet speed, if you receive any specific error message when you are logged off, does it occur during daytime or only in the evening, only in supercruise or randomly … provide them with as many details as necessary so they can investigate these problems and solve them. Thank you for your patience and your feedback! – Source – Dav Stott, Lead Server Developer
New Frontier Buildings and London Stock Exchange
I regularly keep you informed about the the London Stock Exchange – Frontier Developments. The company being public, we can access the results highlighting information about the economic health of the company, but also their future developments and plans.

Planet Coaster still has a strong momentum;
The release of Elite: Dangerous on PlayStation 4 helps earning new profits;
No new details about the third and mysterious franchise, except that we will have the first details this year for a release in 2018;
75% increase in earnings compared to last year, with income of £37.3m (+66% with £18.1m previously);
Net Balance as of May 31, 2017 of £ 12.6 million (£ 6.7 million previously), all the lights are green and investments continue;
Frontier has a new CFO (Chief Financial Officer), Alex Bevis. He added a lot of shares to the company in order to help its development.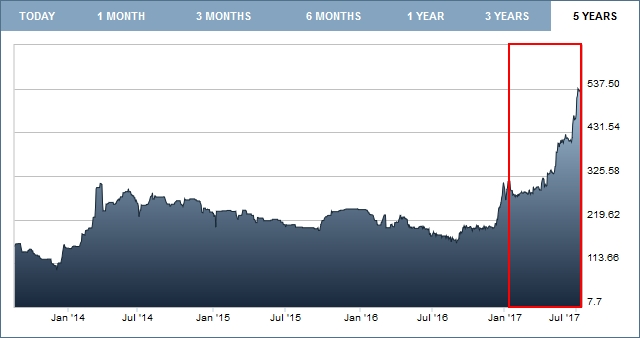 I have for once taken the statistics over 5 years because I find that it is more representative of the incredible market growth (shares) from Frontier Developments PLC.

With that much money, Frontier Developments continue to grow and the construction of a new building is progressing very well.
The latter should move all employees to the same location, as they were previously spread between three buildings. They remains in the Cambridge Science Park, not far from the main office. The building consists of 4 floors including underground parking, ground floor, floor 1 and floor 2. Meeting rooms with glass views, oak finishes and painted wooden chest, canteen, offices and Open spaces… it all turns out to be tremendous!
Some salt, it only lacks the recruitment of additional employees, notably in the communication with the community in order to further develop the players' projects.

Powerplay and Lore
Powerplay is an ongoing battle for interstellar conquest and control. Players can choose a Power, help guide their strategy, and take on special objectives to advance their shared cause. Player choices and actions have a direct and visible impact on the balance of galactic power.

◘ 13 juillet – A Federal spokesperson has announced that the Federation's appeal for construction materials has received the wholehearted support of the galactic community. Hundreds of pilots contributed to the campaign by delivering construction materials to Blackmount Orbital in HIP 17692, and by eliminating agitators in the system so traders could deliver commodities in safety. In a statement, the spokesperson said:
"This new outpost will give us an excellent vantage point from which to monitor the Thargoids. Those who supported this initiative have our sincere gratitude."
◘ 13 juillet – NULL, an independent organisation based in LTT 4961, has announced plans to build a new base at Greg's Legacy, a large asteroid named after one of the organisation's founding members. A spokesperson for NULL released the following statement:
"Having secured the necessary funds, we are now in a position to offer generous rewards to pilots who support this two-pronged initiative. With the help of the galaxy's independent pilots, we hope to both expand the economic power of LTT 4961 and bring peace to the system."
◘ 14 juillet – As the number of newly discovered Thargoid structures continues to grow, reports from the Pleiades Sector IR-W D1-55 indicate that the Oracle, an Ocellus starport, has relocated to the system in order to study the region's Thargoid structure.Governor Ahmed, the starport's principal administrator, released the following statement:
"The Oracle has long been a hub for scientific research, and in recent years many of our researchers have started focusing on Unknown Artefacts and Probes. The Thargoid structures are ripe for further study, and I therefore believe it is essential that we have a dedicated research centre at one of these sites. We need to know more about the Thargoids – what they want, why they're here and ideally how to communicate with them. My hope is that the Oracle will help us answer some of these questions."
The Oracle is expected to arrive in the Pleiades Sector IR-W D1-55 within the next few days.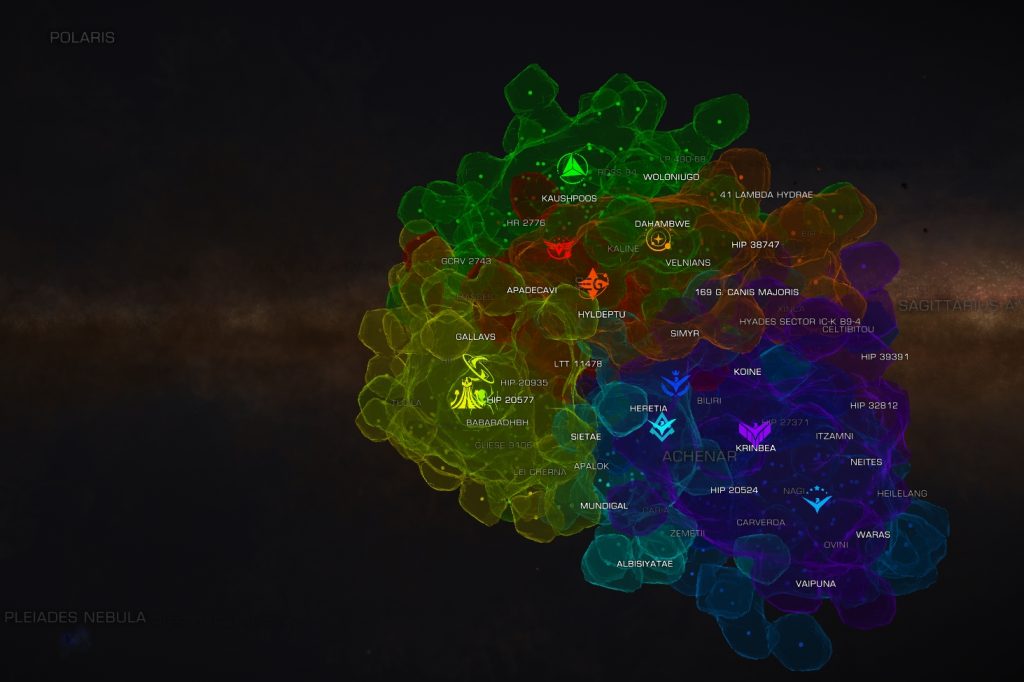 Community Goals
Community Goals allow the community to work together on an ongoing project within a system. Fight, trade, smuggle, explore and help the factions and super powers to achieve their goals. There is no good or bad CG, write your & Elite's stories while earning credits!

Two Community Goals this week: Transport and Bounty Hunting

◘ Asteroid Base Services Appeal (Transport)

Location: Conway City | LTT 4961
Objective: Deliver Titanium, Aluminium, Copper and Tea

Rewards: Credits

Progress: 4/8
Until: 20th of July

Description: The organisation has placed an open order for titanium, aluminium, copper and tea in support of this initiative, and has promised to reward pilots who deliver these goods to Conway City in LTT 4961.
◘ Eliminating Agitators in LTT 4961 (Bounty Hunting)

Location: Conway City | LTT 4961
Objective: Deliver Bounty Vouchers

Rewards: Credits

Progress: 7/8
Until: 20th of July
Description: It has also placed a kill order on all ships on its wanted list, as part of an initiative to rid the system of corruption and crime.


Pics of the Week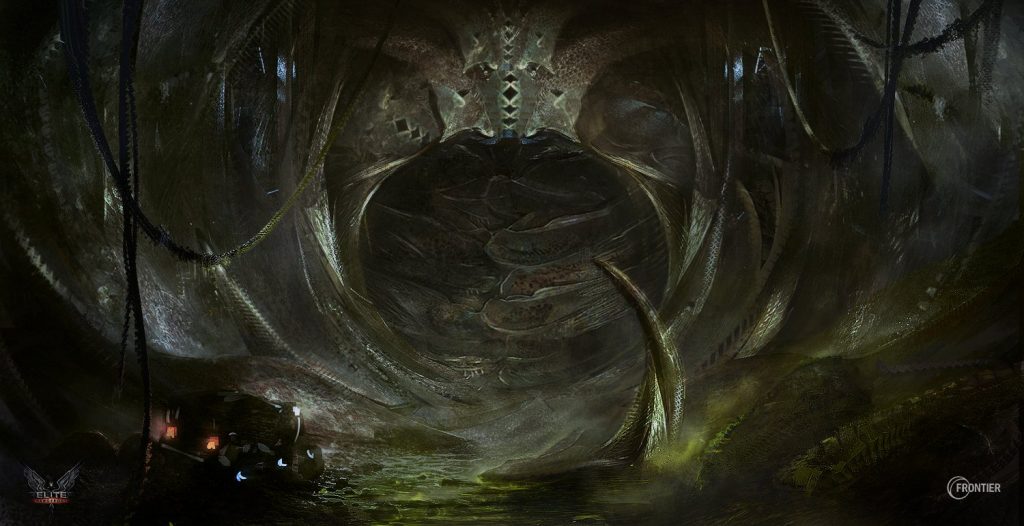 Emilie Rinna

Videos of the Week
Check out the first part of the Summer Great Expedition, from Eikoop !

Some new stuff in the Frontier Store. Tron fans, rush the store!

Do you like the Outpost? We'd like to hear from you in the comments!