We're back after a two weeks break – Check out our latest newsletter: « The Outpost #81 », for Elite: Dangerous!

Don't forget to follow us on Twitter @RemlokEN for some fresh and unique news 🙂

Frontier News
Aliens and 2.4
A week ago was announced the 2.4 Beta date: Thursday August 17 – The Return.
The initial Closed Beta period will be open for those who have previously paid for beta access, it will then close for a few days to let us prepare for Open Beta, and then it will come back online for everyone to test. Frontier will have full instructions on what they need testing in their beta specific forums, but just like the beta for 2.3.10 and as with previous updates, Thargoid specific content will remain a surprise and will not be present in the beta. They will still need everyone's help in making sure that bug fixes, general improvements and more under the hood updates are tested thoroughly though.
Due to the nature of this update Frontier wouldn't want to spoil the narrative or interactions that the community will have so they won't be broadcasting these reveal streams in the build up to the upcoming beta for 2.4. The team still keep things going with small sneak peeks here and there, but largely they really want us to discover 2.4's secrets for ourselves. After release, they'll be hosting streams that focus on the narrative, explaining what the Commanders are discovering, explaining how we can get involved and hinting at things to come.
Although we won't see the Thargoids in the beta, from day one after 2.4's final release the Thargoids will make their return. The interactions with the most mysterious and terrifying civilization will be very important, so be careful. The dev team have put a lot of love in to 2.4.
Of course, I will reorganise and put the Patch Notes online here as soon as they'll be published next week. For now, we can only speculate on what content is to come over the following months.
The return of the complex Thargoid civilization || Truth and Fiction;
Balancing of certain ships;
New weapons and modules, like the repair limpets and… some new missiles?;
Deep stories and thoughtful interactions;
Intense actions around the Pleiades, especially the system Maia;
A conclusion to all the adventures from Season 2 like the Meta Drive rumours, Salomé's notes, the barnacles, and other aliens lifeforms, …
What are you expecting with The Return?
There have been a few rumours about the Thargoids Unknown Structures that would be growing, out of the ground. I investigated on-site and found nothing special… but this could change depending on the sites (HIP 14909).
In the following images, on the left (June 28th) and on the right (August 1st), the sites look alike.
Also, this recent map of the possible civilizations' territories, according to the regions locked by a permit. It seems very interesting.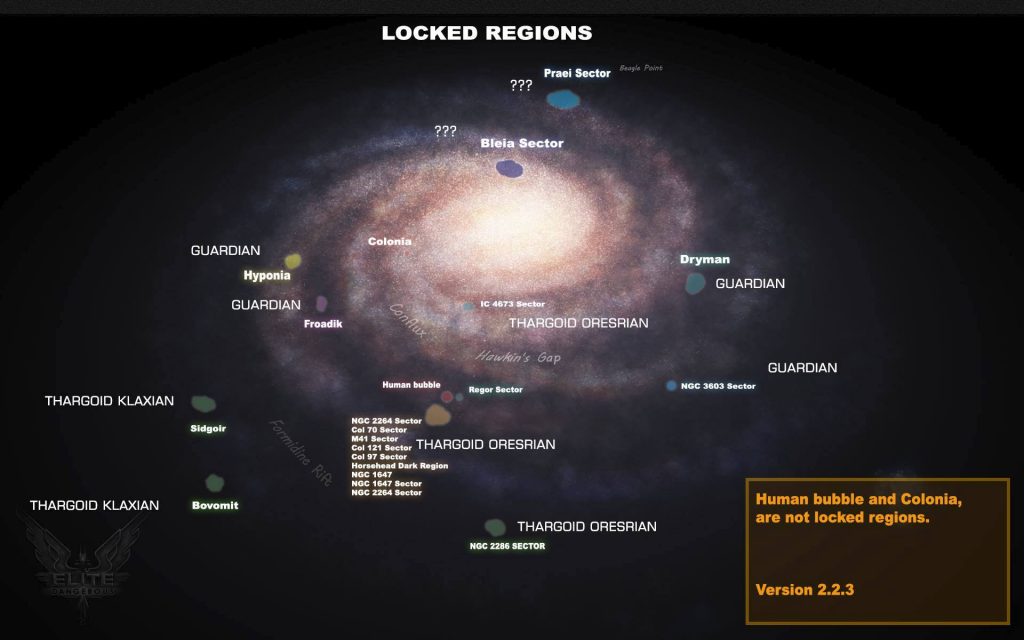 Developers and Community
A dedicated space to Devs' messages from the forums and social Medias.
Three questions will pop in our Quizz box each week, so you can learn more about Elite: Dangerous while having fun!
What is the minimum distance to request docking at a station?

5,0 km
7,5 km
9,5 km
1,0 Mm

Senator Zemina Torval, from the Empire, controls the company…

Rastapopoulos Lasers
Mastopolos Mining
Fiestacarpaccios Meats
Groboloss Detrituss

What ship can fit up to eight hardpoints?

The Federal Corvette
The Gunship
The Anaconda
The Imperial Cutter
Community Projects
The Elite: Dangerous Community regularly proposes projects, whether they are simple events or very complex initiatives.
I would like to highlight some of the most recent ones this week, to foster the participation:
◘ First of all, I would like to remind you that the moderators Tenchiliora, Ne0tix, and myself will be going to the gamescom 2017 later this month of August. We will take part in the Frontier Meet of course, but also interview the developers in order to get some answers to your questions. This is an unique occasion, so don't forget to drop yours in the comments! The project has been a great success last year (D1, D2/3, D4/5, itw devs in French), I still want to provide you with the highest quality content on Elite: Dangerous! The post-2.4 should be evoked, we are awaiting your questions 🙂
◘ Scrap Dealers recently launched their website allowing all players to learn more about the drop rates of certain items in-game. It is convenient if you are looking for a particular canister or data for example: you'll know where to search for it and the % loot from each signals! Don't forget to follow them on Twitter.
◘ Do you have a 3D Printer? Arithon offered the community with the full list of the Elite: Dangerous Ships' blueprints!
◘ Le Piaf is a satyrical newspaper criticizing the Lore and the Galnet news. It is also 100% roleplay.
◘ The Elite Racers are a group who remain detached from the political landscape of the galaxy and the in-fighting of humanity, opting instead to bring together Commanders from every allegiance and Power for a singular purpose: to fly their ships as fast as humanly possible! Do you think you're up to the task? Join the finest high-speed racing pilots for the Okinura Station Sprint Challenge and show off your skills.
◘ Elitestagram was created to help share the sheer joy that is Elite:Dangerous, a space exploration and combat game set in a cutthroat Galaxy in the year 3303. Observations have shown that beyond the official forums and some Twitter and Facebook communities, there was no central place to post and share screenshots from inside the game, with easy search features. Here you are!

Powerplay and Lore
Powerplay is an ongoing battle for interstellar conquest and control. Players can choose a Power, help guide their strategy, and take on special objectives to advance their shared cause. Player choices and actions have a direct and visible impact on the balance of galactic power.

◘ 4 August – In recent weeks, a number of programmes have been launched to gather further information about the Thargoids. While the Federation has established an outpost in HIP 17692 to monitor Thargoid activity, independent organisation Abroin Universal PLC recently completed a campaign to amass material for a research centre in the Pleiades Nebula. But not everyone believes such initiatives represent the best way to proceed, with a growing number of voices calling for an inter-superpower initiative that consolidates existing knowledge and resources.
Now these individuals are about to have their wishes granted. At a hastily convened press conference in the Sorbago system, Professor Alba Tesreau of the Achenar Research Council announced that a confederacy of scientists from the Empire, Federation and Alliance has united to establish a new organisation: Aegis. The organisation's remit will be to gather further intelligence on the Thargoids and coordinate all future research. Professor Tesreau said:
"While I applaud recent efforts to learn more about the Thargoids, we can achieve far more by working together. It is imperative that we coordinate our efforts, and share our knowledge and expertise. That is what Aegis has been created to achieve. Naturally, the cold war between the Federation and the Empire has complicated efforts to make this initiative a reality. Fortunately, while there may be antagonism between our governments, there is a strong desire for collaboration and cooperation within the scientific community."
Having received substantial funding from all three superpowers, Aegis will soon establish its first research outpost in the Pleiades Nebula.
◘ 10 August – The Alliance has launched a new research initiative designed to enhance human understanding of the Thargoids. The primary aim of the initiative is to build a range of state-of-the-art instruments expressly designed to analyse Thargoid material.
In a statement, an Alliance spokesperson said:
"Although humanity has had prior contact with the Thargoids, our knowledge remains limited. It is essential that we expand our understanding. We therefore intend to build a range of specialised tools and analytic instruments with which to study Thargoid material."
◘ 11 August – A number of media outlets have reported that the Sirius Corporation has entered the Merope system, establishing two new outposts. Although the mega-corporation has asserted that the outposts will support mining operations in the region, commentators have speculated that Sirius is positioning itself to take control of the system's barnacles.
Daxton Sung of the Imperial Herald commented:
"Right now, the Federation controls Merope. But Sirius is playing the long game. They've positioned themselves close to the barnacles so that if the Federation pulls out of the system, they can swoop in and start hoovering up meta-alloys."
The new outposts will no doubt be a boon to independent pilots in Merope, giving them access to a wide range of services.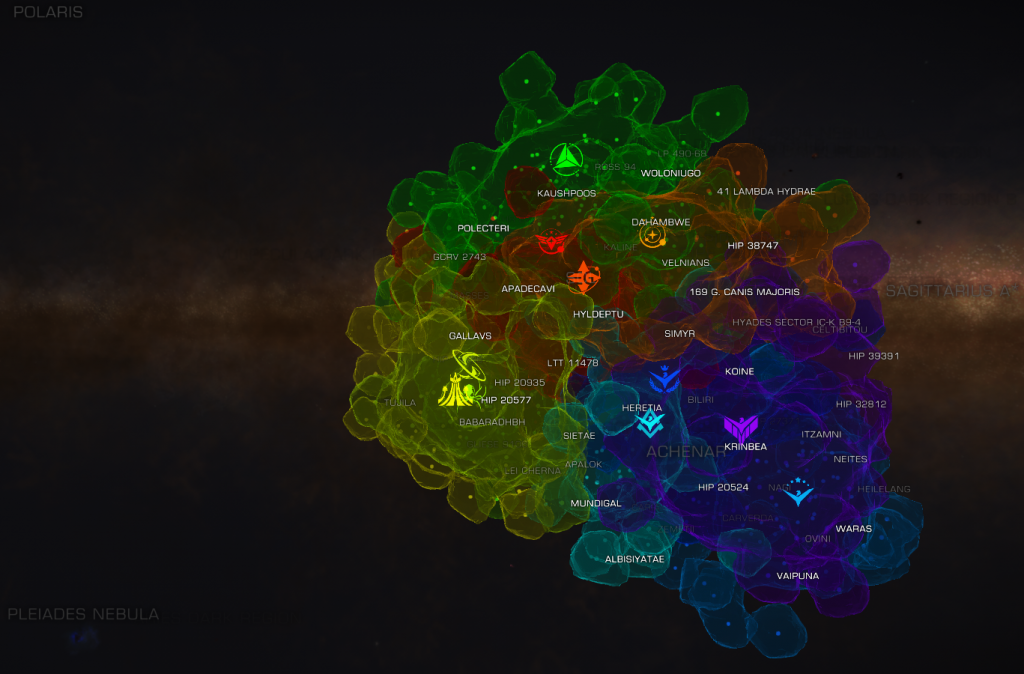 Community Goals
Community Goals allow the community to work together on an ongoing project within a system. Fight, trade, smuggle, explore and help the factions and super powers to achieve their goals. There is no good or bad CG, write your & Elite's stories while earning credits!

Two Community Goals this week: Transport and Bounty Hunting
◘ Alliance Research Initiative (Transport)

Location: Neville Horizons | Kaushpoos
Objective: Deliver Unknown Ship Signatures, Unknown Organic Circuitry and Unknown Technology Components

Rewards: Credits

Progress: 4/8
Until: 17 August
Description: The Alliance has placed an open order for unknown ship signatures, unknown organic circuitry and unknown technology components. The Kaushpoos Pro-Alliance Union has been authorised to oversee the campaign, and has promised to reward pilots who deliver the requested resources to Neville Horizons in the Kaushpoos system.
Notes: Here is a guide to help you find these items and data.
◘ Alliance Research Initiative (Bounty Hunting)

Location: Neville Horizons | Kaushpoos
Objective: Deliver Bounty Vouchers

Rewards: Credits

Progress: 4/8
Unti : 17 August
Description: The organisation has also placed a kill order on all ships on its wanted list, to ensure that those delivering resources to Neville Horizons can do so safely.

Pics of the Week
A first batch of Elite: Dangerous, and then… adorable copawlets!


Videos of the Week
Thepher created his second and fantastic Timelapse Elite: Dangerous!

Some PvP with the excellent Chris Lane, soft and skilled!
Laser Cops, In a Pursuit of a Wizard. It's never a mistake to add Giraffe and Mars in this category 😉

Master Moozipan strikes again! <3
Do you like the Outpost? We'd like to hear from you in the comments!