Since the Update Chapter 4, version 3.3 on December 11, Frontier Dev communications are pretty rare.
Despite two updates that brought more new bugs than fixes, the vast majority of the community was running out of breath with no detailed feedback and changes in place.
After almost three months of daily detailed bug reports, constructive criticism and Q/A with some BGS player groups: we finally receive an update that could unstuck and improve many of the bugs and problems currently encountered in the Background Simulation.
Let's detail this update! It should be implemented today, as of 1:30pm UTC.
Will explains the BGS mechanics implemented since Chapter 4 and the changed/enhancements recently added to the game.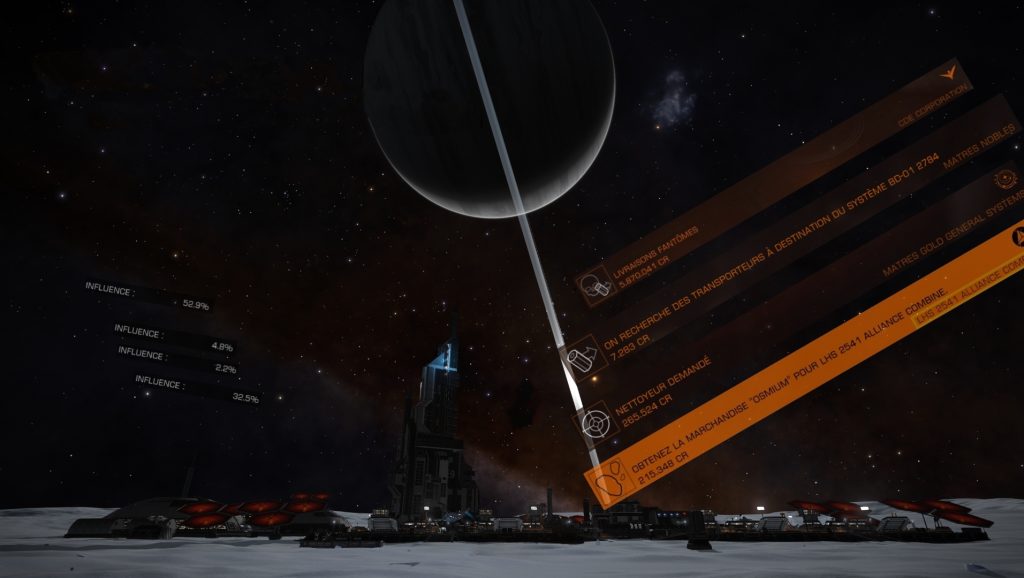 Message from Will Flanagan, Lead Community Manager
We wanted to give you an update on the current state of the Background Simulation and detail some changes we are going to be implementing in an attempt to combat some of the issues that have been flagged up.
Before that, we would like to thank all of your who shared your feedback on the forums, across social media and on Discord since the release of Beyond – Chapter Four. With these reports, we were able to identify issues with the simulation and while we could not reply to each of you individually, please rest assured that we have read your feedback and investigated details in the galaxy's databases and server logs where possible.
As we've mentioned previously, this is an on-going process, so some tweaks and changes are still likely to come as we release more updates of the BGS.
We've been taking a really in-depth look at how all of the galaxy's factions have reacted to having multiple states active at once and to how the galaxy reacts to each and every player action in the core of the background simulation, and are ready to release some more changes to the live game servers today from 1:30 PM (UTC).
While we don't usually put changes like these out on a Friday, we've heard your feedback and believe it is better to give you the weekend to try out them out and provide any feedback you might have. Next week, we'll be able to take a look at your comments and assess the impact these revisions have had.
Faction Influence
Most cases reported – where you had performed a lot of positive influence actions to a given faction, but saw minimal increases or even a decrease: this is due to the way the system distributes influence and has to keep everything at 100% maximum (this can be lower when some factions in the system are in a conflict).
At the current time, if you are trying to support a faction in a system, we would recommend that you try not add too many positive influence inputs to other factions that system, especially if they have relatively low influence.
After extensively analysing the live galaxy's data and logs, we have re-balanced equations which convert player actions into influence.
We have also looked at the amount of movement that occurs per tick and you may find movement is slightly slower. This is done for two reasons:
Firstly, we believe it will help with the first point above.
Secondly, that it provides us more wiggle room whilst we balance and tweak the BGS further.
Faction Conflicts
The Outbreak state no longer breaks War and Civil War scoring (a fix we introduced two weeks ago).
From Beyond – Chapter Four, Faction Conflicts were changed to run for a fixed duration, keeping a daily 'score' for each faction, and then the overall Conflict result was determined by the number of days that a given faction 'won'. The days won are announced in the faction status local news articles in that star system.
Starting Conflict
To reduce the number of Conflicts in the galaxy and to make them more meaningful, Conflicts will now only be triggered during invasions or when one or both factions control an asset that's at risk by that Conflict.
Player actions affecting a daily Conflict score
Previously, the day's score was determined by diverting faction influence inputs (subject to the usual rules of combat actions affecting War and Civil War and non-combat actions affecting Elections). However, we've now changed faction Conflict scores to be driven by their own set of equations.
We've kept the relative balance of how each action is weighted against others, but it should now be much harder to lose a day in a Conflict by accidentally putting positive inputs into your opposing faction.
Fixed Conflict Zone objective causing incorrect influence changes when they occurred during the tick and whilst a Conflict state was in the process of ending.
To be clear, influence changes after any Conflict should be the ±4% change. This is designed to separate the winners and losers of a Conflict, so that it doesn't immediately restart.
Winning Conflicts
We've stopped awarding bonus days won if one side beat the other by a huge margin (designed to allow a faction to force a draw by heroic efforts if it was losing 4-0),
Conflicts will now end earlier if there aren't enough days of the Conflict remaining for the losing faction to at least achieve a draw.
This should make Conflict results less confusing and further reduce the number of Conflicts going on around the galaxy at any point in time.
Balancing player actions for War/Civil War
Winning Conflict Zone objectives is the most obvious way to help win a war.
Most combat missions, combat bonds, bounty hunting and violent crimes will all contribute towards a War or Civil War.
Balancing player actions for Elections
Players need to concentrate on non-combat actions that positively affect their chosen faction, while avoiding positive actions for the opposing faction. You can also provide negative economic actions onto the opposing faction.
Non-combat missions, commodity trading (and smuggling), search and rescue work, selling exploration data and helping out with scenarios at installations and megaships are all good ways to contribute towards an Election.
Economic and Security states
Many of you have commented that the investment and Civil Liberty states are easy to achieve and sustain across the galaxy, and that Lockdown and Famine are very rare.
We've already made a several changes for how negative actions apply negative economic and security effects, and also how quickly the EP & SP bars drain back towards the centre. We expect to make further tweaks once we've analysed the results of this set of changes.
Let's test these new algorithms and report bugs & feedback to the dev team:  Bug Reports.
Feel free to join our flourishing Discord community, where you can chat and interact with other commanders!