I used to regularly share the news from Frontier Developments, and it was only while watching a recent video that I thought, « Hey, I totally forgot about the London Stock Exchange this year! »
The London what? No worries, I'll sum it up for you.
The company being public, we can access the results highlighting information concerning the economic health of the company, but also the progress of their current and future projects. if you're motivated, feel free to read their: Strategic Report, Annual Report and Finances.


Frontier Developments 2017 & 2018
Their previous record for the 2017 fiscal year was +500% profit compared to 2016.
It's at the beginning of the fiscal year 2017, between April and September, that a great boom occured at Frontier.
Several factors pushed investors to bet on the promising company: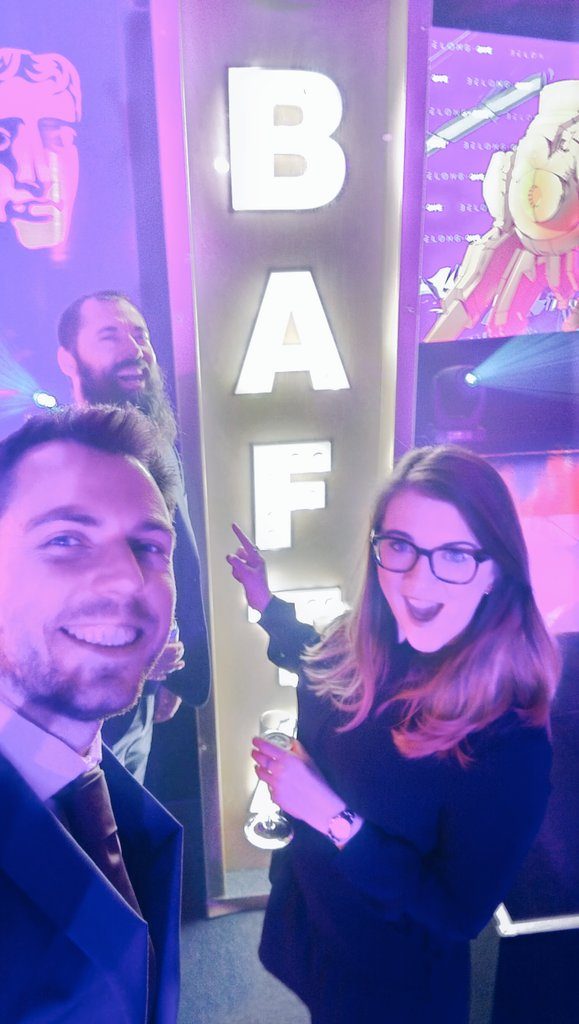 Chapter 4 Elite: Dangerous Horizons « The Return » brought new stories and a whole new meaning to the game. The Thargoids, the first alien race, has been mentioned on all media whether it was radio or video game press and even scientific papers because of the great and complex stories of the Thargoids (added to the languages and communications used), theories and links with the old Elite game. After the Xbox One, the game is also launched on PlayStation 4, demonstrating the quality of Frontier to bring the game to a console again.
Planet Coaster had just launched, showing the world that the company was able to manage the development of two video games both developed AND published by the same company and at the same time; A great achievement for a company.
A third license is announced, Jurassic World Evolution, proposing the development skills of the now renowned developers at Frontier Developments, thanks to their two launched franchises and their nominations at the BAFTA, the English Academy of Arts. They are nominated for the best British game (Planet Coaster) and best game continuous development (Elite: Dangerous) which earns them a big advertisement, even if Overcooked and Rocket League won these two prizes.
Then finally, the Chinese giant Tencent bought 9% of Frontier Developments' market share, ie a bonus of £17.7 million in addition to the £12.6 million net balance Frontier had during that time, pushing their assets to £30M. With this balance, the company develops new buildings and prepares its future with the addition of many new employees. The purpose of this acquisition allows Tencent to use Frontier's expertises in terms of Live Operation and various areas in management/space/exploration games while Frontier puts a foot in the Chinese market to boost its growth. A month later Frontier Developments' director, David Braben, reinvests a huge amount of money into the company, as does a well-known Scottish game developer, Christopher Sawyer. This is the large volume (orange bar) visible below, in May 2017.
These last two fiscal years have allowed the company to prepare for its future through the hiring of many new employees, the development of new tools, the exploration of new markets and even earn the support of two major investors in 2018: OppenheimerFunds and Swedbank Robur Fonder AB.
While the market slowed down naturally during the long preparations, it is expected to explode again between March and August 2019, if Frontier plays well.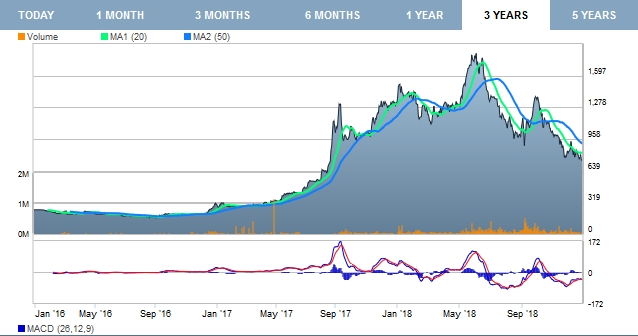 Results 2018
Elite: Dangerous has entered its fourth year of post-launch development since December 2014, and continues to deliver generous revenue, of which 30% comes from the store and a larger part from the games' purchases (newcomers). This year of « Beyond » content is free for all Horizons players to enhance the game's content and push its quality even further;
Planet Coaster, which launched in November 2016, continues its genre-leading popularity.
Towards the end of FY18 they completed the development of their third franchise, Jurassic World Evolution, as planned and, in June 2018 (after the end of FY18), achieved a third successful franchise launch with its release alongside the launch of the Jurassic World: Fallen Kingdom film.
An excellent income of £34.2m for £2.8m in profit brings the company to 8% above the calculated margin. The revenues and profits for 2017 were £37.4m revenue for £ 7.8m profits. They remain comfortable with their forecasts and the difference with 2017 comes from recent investments in Jurassic World Evolution, the development of the future of FDev and of course the lack of new franchise in 2018.
Net Balance as of May 31, 2018 of £24.1m (+£11.5m / 2017) with a record in sales as shown in the graph above. Jurassic World Evolution also sold 1 million copies only 5 weeks after its launch. This strengthens their status to hold deadlines while developing and publishing a top tier franchise simultaneously on three platforms;
Frontier sees big and announces being able to realize £75m to £88m in revenue for 2019 against the £34m realized this year. WOW! Will you say? Yep, looks like they're confident with what 2019/2020 will add to the table, and so should you because they have just loaded the cannons. Although their communications still lack some care (sorry, I see a lot of room for improvements), they are improving and should offer more in the future.
On my side for 2019, I expect a Frontier Expo with very rich content for the upcoming season of Elite: Dangerous that promises to be revolutionary, big changes on Jurassic World Evolution and Planet Coaster and the announcement of their next IP franchise #4 .
The vision for 2019, and beyond
Frontier Developments' CFO, Alex Bevis, presented the company during the MELLO event in London, back in November.
The presentation is about FDev finances.

Many interesting points are covered, here is my recap:
Frontier will turn 25 in January;
They want to launch a new game every year;
The mobile market seems quite appealing to them, despite the poor discoverability;
400 employees currently make the Frontier Developments studios, with about 300 developers including a hundred dedicated to Elite: Dangerous currently;
A fourth game is in development for 5 months now, after several months/years of designs. It should launch in 2020, ie between June 2019 and May 2020. As explained earlier, 2019 should be a huge year for Frontier with a lot of new content coming on all their games as well as a new franchise. 2020 should be a little quieter with a return on investment from the previous year;
In the UK, Frontier surpassed Team 17. The latter are the developers of The Escapists, Overcooked, The Worms, Planet Alpha or even Aven Colony. Frontier are ranked #2 in the UK, behind Keyword Studios which have triple value as they are the leaders of the international market for all that is technical services provided to gaming companies;
Frontier would like to acquire other companies, develop and/or publish for other companies. Apparently, some things are already being discussed, but nothing to announce at the moment;
Short-term games aren't their focus, Frontier likes to develop and support their games over a very long term.